About INTERNATIONAL SHIPPING: domestic shipping via USPS media mail will be figured at checkout, however if you require overseas shipping, please email 
h a p p y s q u i d r e c o r d s (at) g m a i l (dot) c o m with your prospective order.  We can then  provide you with specific information on shipping costs.  Thank you.
100 FLOWERS - Fascist Groove Thang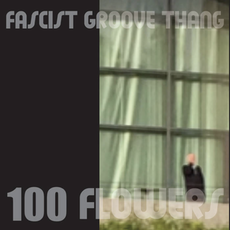 100 FLOWERS has released its first new recording since the DRAWING FIRE EP in 1984. Its cover of HEAVEN 17's (WE DON'T NEED THIS) FASCIST GROOVE THANG is available through BANDCAMP, CD BABY, iTUNES, GOOGLE MUSIC, SPOTIFY, RHAPSODY, YOUTUBE, TIDAL, and otheer digiral platforms.
U R I N A L S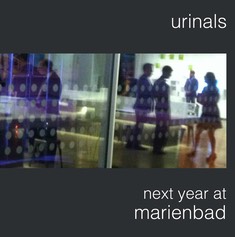 URINALS - Next Year at Marienbad
The Urinals are back with their third long-player (4th if you count the compilation NEGATIVE CAPABILITY.) 13 BRAND new tunes showcasing where the band is now, as a potent and high-energy power-trio.  The songwriting, while more sophisticated than their earliest material, continues to be recognizably their own, with the songs themselves demonstrating both aggression and tenderness. Includes "Water/Blood," "Shut Yr Trap," and "The President and King Shake Hands." Produced by John Talley-Jones, recorded by Mike Martt (Thelonious Monster, Tex and the Horseheads,) and mixed by Andre Knecht (Human Hands.)
Urinals - Next Year at Marienbad CD: $12.00 / Vinyl LP w/ download code: $15.00

Click HERE to purchase as a digital download from CD BABY.
Click HERE to find it on BandCamp.

                                                                                                                         U R I N A L S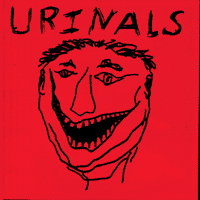 URINALS - Negative Capability…Check It Out (CD: Warning Label / LP: In The Red)   
The ultimate early-Urinals anthology is now available! Includes the complete "Urinals," "Another EP," and "Sex/Go Away Girl" 7-inch material, 3 tunes from long out-of-print compilations, several unreleased studio and rehearsal pieces, and samples from the band's archive of live tapes, including their very first performance as a three-piece. 31 tracks in all, which, along with "100 Years of Pulchritude," provide a definitive portrait of the Urinals/100 Flowers' initial five-year history.  CD: $12.00   / 2xLP: $20.00
Click HERE to find it on BandCamp.


URINALS - Urinals EP / Another EP / Sex 7"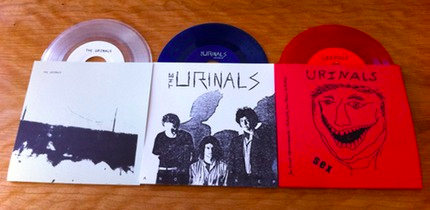 Freshly-pressed reissues of the first 3 releases by the Urinals, on state-of-the-art colored vinyl.  THE URINALS includes "Surfin' with the Shah" and "Hologram," ANOTHER EP features "Ack Ack Ack Ack" and "Black Hole" and the SEX single features, um, well, "Sex" (as well as the band's cover of The Last's "Go Away Girl.")  Superior Viaduct.
URINALS - Urinals EP (1st) $9.00 
URINALS - Sex/Go Away Girl 7"  $9.00
(URINALS - Another EP [2nd] SOLD OUT)

100 FLOWERS - 100 Flowers

Finally, a vinyl reissue of the debut album of Urinals/100 Flowers, courtesy of Superior Viaduct.  Just in time for its 30th anniversary, these 16 songs show what the Urinals could do in a real studio after a string of  classic lo-fi punk singles.  Includes "All Sexed Up," "Presence of Mind, and "Strip Club." LP w/ download code: $15.00
Click HERE to purchase as a digital download from CD BABY.
Click HERE to find it on BandCamp.

VARIOUS ARTISTS - Keats Rides a Harley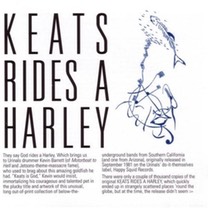 Expanded CD release of the original 9-track compilation from 1981 includes early recordings by EARWIGS, TOXIC SHOCK, S SQUAD, GUN CLUB, MEAT PUPPETS, LEAVING TRAINS, TUNNELTONES, HUMAN HANDS, and 100 FLOWERS. This release compiles one bonus performance each by the original bands, plus the entire HAPPY SQUID SAMPLER from 1980. 23 tracks in all.  CD: $12.00   
URINALS - What is Real and What is Not (Warning Label)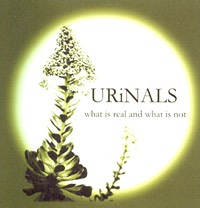 2003 release of brand new Urinals material, either the 20-years later album follow-up to the 100 FLOWERS record, or the debut long player by the Urinals -- take your pick. 14 originals including SKYGRIFTER, and TEACH ME TO CRAWL, as well as a cover of the Bee Gees' psychedelic JUMBO.   CD: $12.00  
     Click HERE to find it on BandCamp.

GOD AND THE STATE  - Ruins: The Complete Works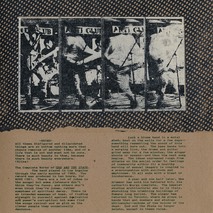 GOD AND THE STATE existed for a few short months in the Los Angeles of 1983, issued this album, and promptly split up. It was a short and sweet career, but one that deserves to be honored. This bracing, literate document of the band's existence has been remastered for its digital debut from the original two-track stereo masters, recently discovered in two unmarked reel boxes in the Happy Squid basement. The Canada/US hybrid featured novelist Dave Hull, Barbara Ann Jaeckel, and Urinals/100 Flowers drummer Kevin Barrett. Available on our Bandcamp site HERE.
THE PUNDITS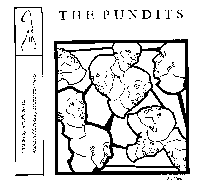 Swirl / Snowed Me In / Dark and Pretty Wish (Calamari Sound / Happy Squid)   
THE PUNDITS are a four-piece from Pittsburgh, PA whose members include local luminaries John Bell (ex-MANIFEST DESTINY), Scott Turri, Mike Shanley of BONE OF CONTENTION, and John Young, ex of FUSEBOX. Although these are "pop" tunes, they have a powerful moodiness, with an extra veneer of psychedelia courtesy of producer Kramer (BONGWATER, URGE OVERKILL, GALAXIE 500, MAUREEN TUCKER, etc.) and engineer Steve Watson (KING MISSILE).   That part of the press establishment which is not associated with The McLaughlin Group makes reference to "solid power-pop ala THE JAM," and a comparison to BIG DIPPER. Then there is the lyrical content, which occupies the resonant and mysterious realm where Kenneth Branagh joins THE MINUTEMEN for a conceptual encore.  7" EP: $4.00  
RADWASTE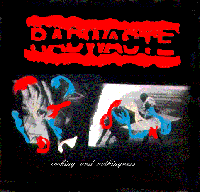 Cooking and Nothingness (Happy Squid)   
This Los Angeles area band featured former members of 100 FLOWERS and 17 PYGMIES as well as a unique four-person (in this incarnation) percussion corps. There are five hook-laden pop tunes on the disc, each with a distinctive propulsive edge to them. From the LA Weekly: "a six-member musical firing squad whose four-drum threat teamed with the hard rocking guitars and vocals of John Talley-Jones and Michael Kory is fast making them one of LA's most popular club groups."   12" EP w/ download code: $6.00   
Click HERE to purchase as a digital download from CD BABY.
THE RUB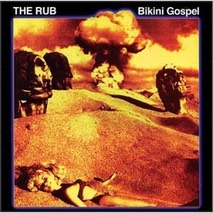 Bikini Gospel (Happy Squid)   
Here is the debut disk from San Pedro's THE RUB, a trio prone to asking musical questions like "Who Killed Bob Crane?" Tim Baker (drums), Dan Duarte (guitar/vocals), and Eddie Mooney (bass/vocals) compose the band, which recalls the exuberance of bands from Detroit (late 60s and Australia (mid 80s). THE RUB's music is confrontational and high energy, with material that goes from nerve-damaged, guitar-slashing rock and roll ("I'm in Love") to heartfelt pop ("The Death of Pop"). Special guests on the album include Louis van den Berg (of STAN RIDGWAY) and Steve Stain (ex-BLUE DAISIES), with a mixing assist from John Talley-Jones. (100 FLOWERS).    CD includes 5 bonus tracks. LP includes download code.
  Click HERE to purchase as a digital download from CD BABY.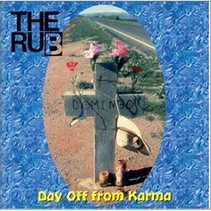 Day Off From Karma (Happy Squid)   
The Rub's second album, suppressed by the authorities for many years, finally released on CD! The follow-up to BIKINI GOSPEL includes "1000 DAYS", a wistful, but headlong evocation of lost innocence, which was initially released on the 2nd VIVA LA compilation from Italy. Other songs include LEARNING TO LIVE, LAST DREAM, and NO SYMPATHY. The band, composed of Eddie Mooney, Dan Duarte, and Dirk Vandenberg provides us with material which is a little more literary and a little more trenchant than your average Mariah Carey disc.  CD: $12.00   
Click HERE to purchase as a digital download from CD BABY.
STUKAS OVER BEDROCK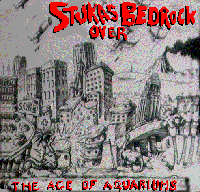 The Age of Aquariums (Happy Squid)   The STUKAS were known variously as the "comedy-punk band that time forgot (Southern California Alliance for Survival--honest!), a band whose lyrics "extol the virtues of Yogi Bear as a youth roll model" (Maximum Rock 'n' Roll), and "the leading purveyors of Pre-Cambrian rock (themselves). On The Age of Aquariums, the STUKAS cover such pertinent concepts as living on the edge--on a budget ("Four Bucks"), intergalactic territorialism ("Locals Only"), and gloom 'n' doom asa way of life ("Burned," a SWANS soundalike). Beware of the occasional indelicacy for these STUKA boys deal in brutal parody for painful times. Or, as one astute fan wrote, "your a very good band your grate."   LP: $8.00 
TROTSKY ICEPICK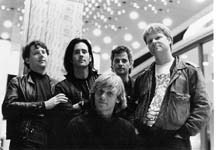 DANNY AND THE DOORKNOBS: Poison Summer (Old Scratch/SST)   
The first album by what became TROTSKY ICEPICK -- the cassette consists of the SST re-issue, which has been entirely remixed and includes three extra tracks.  OUT OF STOCK.
TROTSKY ICEPICK: Poison Summer (Old Scratch/SST)   
TROTSKY ICEPICK's second album has the same title as the first--now the band name has changed!  As above, the CD and cassette versions offered are the new SST rereleases, complete with three remixes and two previously-unreleased tunes. Cassette: $8.00   
BABY (SST)  
TI's third record and debut SST debut disc, which features the college radio hit "Bury Manilow" and some instructional tunes like "A Little Push at the Top of the Stairs." Features the third lineup in as many albums: Vitus Matare, Kjehl Johansen, John Rosewall, and Jason Kahn. The CD has two bonus tracks.  CD: $12.00   LP: $10.00   cassette: $7.00   
EL KABONG (SST)   
The 'pick's fourth album, featuring new drummer Hunter Crowley (once again, ex-LAST) and vocalist John Talley-Jones (100 FLOWERS, RADWASTE), explores new psychic terrain. The sound is tougher, the themes darker. Features MAGAZINE's "The Light Pours Out of Me," and Vitus's mean take on ELTON JOHN, "Long Grey Baggy Soul."
LP: $10.00;  cassette: $8.00
THE ULTRAVIOLET CATASTROPHE (SST)   
Album #5 celebrates Love, Betrayal, Pestilence, the Iraqi Supergun, Italian B-Movie Icons, the Physical Sciences, Comic Book Superheroes, and the like with a sonic crunch and a melodic sixth sense. Features the band's covers of TELEVISION's "Venus" and THE MONOCHROME SET's "Alphaville." OUT OF STOCK.
CARPETBOMB THE RIFF (SST)   
Ex-MIDDLE CLASS bassist Mike Patton joins the band, along with new drummer John Glogovac, resulting in a tougher attack. Features "Imaging Neptune" and "Bad Girls Go to Hell."    cassette: $8.00   
See also VENA CAVA.      
VENA CAVA
VENA CAVA was an early 90s power trio composed of John Talley-Jones (100 FLOWERS, RADWASTE), David Nolte (WEDNESDAY WEEK, MARIA MCKEE), and Debbie Spinelli (HOLY SISTERS OF THE GAGA DADA, CINDY LEE BERRYHILL). They have been described as sounding like "METALLICA crossed with the PIXIES," which is flattering but probably inaccurate.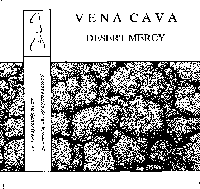 Desert Mercy / Garden (Calamari Sound / Happy Squid)   
Two original songs by the Los Angeles-based trio in a convenient, portable 7" vinyl format, which showcases this band's punchy, melodic and direct approach. DESERT MERCY was produced by Earle Mankey (SPARKS, CONCRETE BLONDE) at his studio, with GARDEN produced by guitarist David Nolte.   7" single: $4.00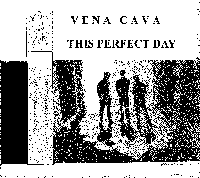 This Perfect Day (VENA CAVA) / (I'm) Stranded (TROTSKY ICEPICK) (Calamari Soud / Happy Squid)   
Here are two early SAINTS covers on a split-artist single. The TROTSKY side is also available on the import-only tribute release "Neurotically Yours," while the VENA CAVA side is exclusive to this disc. A charming blast of crunchy nostalgia rocketed into contemporanea.   7" single: $4.00